Remote Control crashes on macOS 10.13.4.
LIFX Mini's are currently not working with Remote Control. This is a bug, but a release date for a fix has yet to be determined. Thanks for your patience.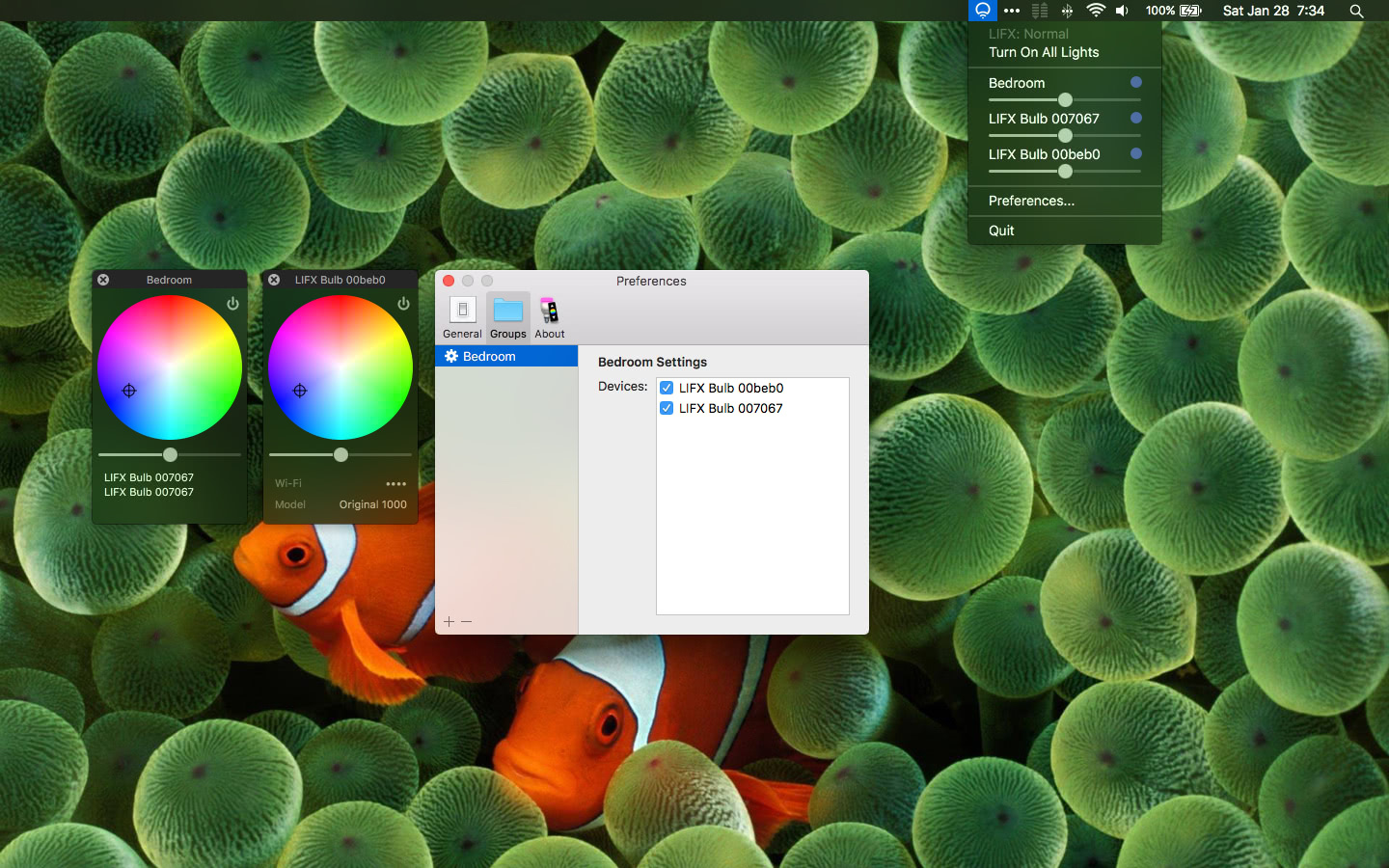 Remote Control for LIFX is a handy way of controlling your LIFX lightbulbs.
It is designed to blend in with the rest of the status bar.
Support
How do I use Remote Control for LIFX?
Remote Control for LIFX will automatically find all lightbulbs on your local network when it is launched. You can also manually rediscover lightbulbs in Preferences.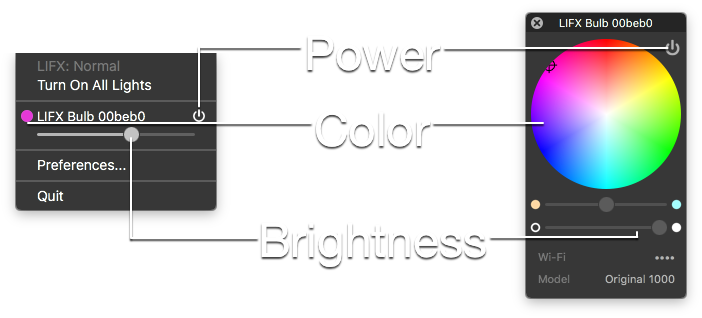 Remote Control for LIFX puts a menu item in your Mac status menu. Your lightbulbs will appear in that status menu. From there you can quickly change bulb brightness by dragging the slider, and power by clicking the power button. To change the color or view bulb details, click the bulb's name to access the HUD.
Why aren't my lightbulbs discoverable?
There are a few requirements that need to be met for Remote Control to work:
Remote Control requires port 56700 on your Mac
LIFX bulbs require an IPv4 address, and need to be on the same network as your Mac
LIFX Original 1000 bulbs must be on firmware version 2 or higher
Your router must allow UDP broadcast
There are some limitations:
Infrared control is not supported
MultiZone lights (e.g. LIFX Z) are not supported
You can help the developer diagnose problems you run into via email.
How do I contact the developer?
david@gofake1.net. I'm always open to feedback, feature requests, and bug reports.
Changelog
Version 1.5.1 -
29 Oct. 2017
(Fix) Crash when opening Preferences on macOS 10.11
Version 1.5 -
26 Oct. 2017
Key bindings
Version 1.4 -
21 July 2017
Improved Menu UI

Unreachable lightbulbs are grayed out in Menu and Preferences
(Fix) Groups' lightbulbs are preserved between launches
(Fix) Visibility of lightbulbs and Groups in Menu is preserved between launches
Version 1.3.1 -
18 May 2017
HUD color wheel supports dragging
Version 1.3 -
5 Feb. 2017
Adjust color temperature in the HUD
Choose which groups and devices to show in the menu
Display LIFX bulb IP address
Acknowledge third-party libraries
Version 1.2 -
28 Jan. 2017
Create 'Groups' of LIFX bulbs
New Preferences window
Refined HUD window
HUD windows now open from the top left instead of top right
Persist state across launches
Disable highlighting on mouseover in menu
Version 1.1 -
11 Dec. 2016
More reactive interface
HUD color wheel is now a wheel
HUD Wifi status is more intuitive
Click the LIFX bulb's name to access its HUD
Click the color indicator in a menu item to turn the LIFX bulb on/off
Version 1.0 -
3 Dec. 2016
Discover LIFX bulbs automatically
Manually discover bulbs in Preferences
Change a bulb's brightness from its menu item
Change a bulb's color from its HUD